Shopping Cart
Your Cart is Empty
There was an error with PayPal
Click here to try again
Thank you for your business!
You should be receiving an order confirmation from Paypal shortly.
Exit Shopping Cart
| | |
| --- | --- |
| Posted on July 14, 2013 at 5:25 PM | |
If you were to weigh the benefits of learning how to perform magic illusions against buying another video game the comparison becomes clear. Learning Magic with your child can pay back immensely over the course of a lifetime! What benefits does another video game offer?
The last thing you want is to frustrate your child with magic tricks that are too complicated for your child's age or ability! Frustration can set in if things aren't going right for your child.
Learning tricks alone without learning how to perform them willnot move a child's confidence forward. More likely it will just increase their anxiety that they aren't good enough to show them to anyone.
I recommend "self-working" illusions for beginners and younger children. Please take the time to enjoy magic with them! Help them to understand and practice magic tricks. It's a great opportunity for you to spend more time with your child and perhaps develop a hobby that you both love!
Ask anyone who has ever seen a magic show, and you'll hear"Magic is Fun!" Not only is magic fun to watch, but it is also fun to perform. Magic can make people smile, laugh and marvel at the mysterious wonders the magician presents, if, of course, you present the magic properly.
Above all, please understand that magic is nothing more than illusion used in an entertaining way. No mortal truly possesses magical powers. Realize that you will be learning how to entertain with illusions which make it appear that you have magical powers.Don't claim to be supernatural or better than anyone else. Magic is designed to do two things: amaze and entertain your audience
Magic offers amazement, excitement and mystery, but it must always entertain those involved, either as spectators or as participants.Perfecting magical techniques is one thing, but it is quite another to go out and face an audience, knowing that they are waiting to be entertained. Buying a magic set or a magic book doesn' tautomatically make you a magician, but with practice and interest,you could go a long way.
Every game, profession, or organization has certain rules to adhere to. I recommend following generally accepted "rules of magic":
Never tell your secrets. A magician never gives away the secret of a magic trick. The audience's enjoyment of magic is to a certain extent due to the mystery of how the magic happened. To tell the secret of a trick would deny the audience of that enjoyment. Once people know how to do a trick, all of the mystery is gone. Plus, if they can do the trick too, your talent and skill is no longer special to them. People are naturally fascinated by magic as long as they don't know how it's done. So, keep it that way! Keep the secret!
Magician's Oath
Throughout history, magicians have maintained an oath of secrecy. This oath is a cornerstone of the magician's art, in that it both binds magicians into a world-wide brotherhood and serves as a constant reminder of their responsibilities as deceptive entertainers.
The original magician's oath was written some 2,400 years ago by Charlatates, the Greek father of modern magic. Over the years, the oath has been modified to keep up with changing times (for example, the bit about not performing for women has been removed), but its core has remained intact.
The current magician's oath, as used in the ascension ceremony though which every magician must pass before being recognized, is as follows: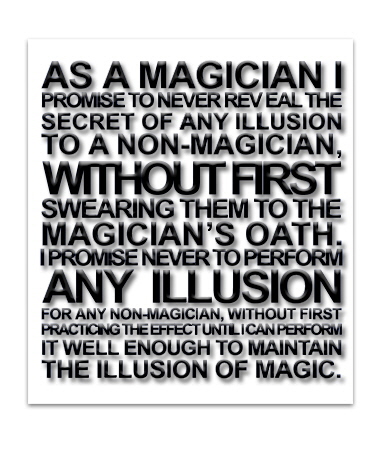 The Magician's Oath




I promise I will always guard against exposing the secrets of magic, whether through lack of practice before performing, or through explanation to any person not entitled to know the secrets. I make this promise seriously,realizing that in violating it, I am not only violating my word of honor, but I am violating the trust and rights of all other magicians who, by the very nature of their form of entertainment, are entitled to the preservation of the secrets of magic.




The only exception to this secrecy rule is when students need a little extra help and ask Mom, Dad or an older sibling to help interpret instructions. Students should always guard against exposing secrets unnecessarily.




Practice, practice, practice! Practice is learning the secret, learning how to execute the trick, and then lots of rehearsal. Never perform a magic trick for someone unless you can do it really well.The best magician is a well-rehearsed magician! It is a good idea to practice in front of a mirror, to get an idea of what the audience would see.




Never repeat a trick for the same person. If they ask you to do it again…..and they will…. they are really looking for an opportunity to catch you in the secret the next time. So, DON'T DO IT AGAIN …. keep them wondering!




Anyone can do a "trick"; only magicians can perform magical illusions. Your performance affects your audience's perception of every other magician. If you perform well, they'll think that all magicians are good, and visa versa if you perform poorly. Make sure that your performance is high quality so you'll be remembered for your good work.




Be a good audience member. Now that you will be learning some magical secrets, if you see someone performing, you MUST treat that person the same way YOU want to be treated. In other words, don't let them or the audience know that you know how the tricks are done.




Most importantly, be yourself and perform magic to entertain and mystify, not to show you are better than others. Remember,always try to entertain your audience and treat them with respect. Without an audience, there is no magic.




- - - - - - - - - - - - - - -




Who do you know that has expressed a desire to learn how to perform magic tricks themselves after they've seen a magician do what appears to represent "the impossible"?




When have you or anyone you know experienced feelings of wonder during and after a magic performance?




How strong is your curiosity or desire to learn how it works?




Are you inspired to want to learn more?




Please visit http://www.juliusmagic.webs.comto learn more about how JULIUS MAGIC can benefit you, your children,and your organization.

Categories: Learning Magic, Performing Magic

0

/